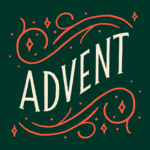 Advent Resources (Click the links to open)
Advent Book List from The Gospel Coalition:
New Books
The Adventure of Christmas: 25 Simple Family Devotions for December by Ed Drew (The Good Book Company). These simple 10-minute family devotions for Advent, featuring graphic-novel illustrations, explore the Gospel accounts of the first Christmas in an engaging way, and will help families keep Christ at the heart of their celebrations.
The Expected One, Revised and Updated: Anticipating All of Jesus in the Advent by Scott James (B&H). Great for a family devotional during Advent, this book brings to light the many promises of Christ―from birth to ascension―that demonstrate his love for us during this Christmas season.
Good News of Great Joy: 25 Devotional Readings for Advent by John Piper (Crossway). If you're looking for a straightforward, Scripture-based daily devotional for Advent this year, Piper's newest devotional volume is a great option.
Is Christmas Unbelievable? Four Questions Everyone Should Ask About the World's Most Famous Story by Rebecca McLaughlin (The Good Book Company). This book shows there is a rational basis for the belief that the world's most famous story is fact, not fantasy—and how those events in history can infuse our lives today with meaning and joy.
The Promise and the Light: A Christmas Retelling by Katy Morgan (The Good Book Company). Written for children ages 8–12, this 25-chapter book (one for each December day leading up to Christmas) will help families step inside the hearts and minds of key figures in the Christmas story.
The Weary World Rejoices: Daily Devotions for Advent (TGC). After initially selling out, print copies are back in stock at Amazon. You can also pick up the ebook version, which is now discounted 50 percent.
AWANA's Free Family Advent Devotional. Every week for five weeks (including one week after Christmas), those who sign up will receive email with a video lesson, devotional, Scripture reading, age-appropriate activities, and questions to spur on conversation.
Center for Christianity, Culture, and the Arts Advent Project. For each day between the first day of Advent (Nov. 28) through Epiphany (Jan. 7, 2022), this multimedia devotional features a Scripture passage, written devotion, work of visual art, poem, and a piece of music.